Lucia Rijker - "The Most Dangerous Woman in the World"
Dutch female professional boxer, actress and kickboxer
Lucia Rijker
was born on December 6th, 1967 in Amsterdam, Netherlands.
Lucia has been dubbed by the press and opponents "The Most Dangerous Woman in the World". Lucia speaks four languages, is a Buddhist and dedicates time daily to meditation and chanting. Her mother was born in Holland and her father was born in Suriname, in South America.
Lucia is one of the most accomplished athletes in the world. She started her martial arts career at the early age of six, when she began training in Judo. A year later, she was part of the Dutch National Softball Team. At fourteen, after picking up fencing a year earlier, Lucia became the Netherlands Junior Champion of that sport.
No other woman has ever defeated her in the ring (as of February 2007); her boxing record is 17-0 (14 K.O.'s), and her kickboxing record is 37-0 (25 K.O.'s), conquering five world titles in the process. Finding no female opponent that could challenge her, she decided to confront a male opponent. She met her only defeat in October 1994 at an exhibition Muay Thai kickboxing match against male opponent, World Champion Somchai Jaidee of New Zealand (a 2nd-round K.O.).
Lucia has been on the cover of numerous magazines including Inside Kung Fu. As a professional boxer, she has won the WIBF Welterweight Title, and has beaten name fighters such as Marcela Acuña (5th-round K.O.; Acuña was 0-1), and Deborah "Sunshine" Fettkether (10th-round decision; Fettkether was 8-4-3 going in). For years, many women's boxing fans have clamored for a match between Lucia and Christy Martin ("The Coal Miner's Daughter"). The two had been widely considered the world's top female boxers (Martin, more for raising the sport out of sideshow / joke status, she has lost 4 of her 50-plus fights; Rijker, for being impressively unstoppable). Also, they have repeatedly expressed great dislike for one another in public.
Lucia Rijker - "The Most Dangerous Woman in the World"
After winning her first 14 fights, but failing to secure a match with Martin, Rijker stepped away from boxing in 1999 to pursue a career in Hollywood. However, she returned to the ring in February 2002. She beat standout Jane Couch (20-4 going in) by decision (8 rounds) on June 21, 2003 for her 16th win. Win number 17 was a 10-round decision over "Sunshine" Fettkether on May 20, 2004.
She co-starred as "Billie 'The Blue Bear'" in 2004's Oscar-winning, female boxer-based film
Million Dollar Baby
. She was also featured in the documentary film Shadow Boxers. She played a minor role in Rollerball (2002 film) and even had a brief cameo in the season 2 finale of the
L Word
as Dana's trainer. Lucia and Martin were scheduled to fight on July 30, 2005 at the Mandalay Bay in Las Vegas. Major U.S. promoter Bob Arum (Top Rank Boxing's head) had made their match the main event of a card (with otherwise male boxing matches) called "Million Dollar Lady". Each woman was guaranteed $250,000 (U.S.); the winner would get an extra $750,000, astronomical paydays for female boxers in the year 2005. Unfortunately, Lucia may not realize this million-dollar dream. On July 20, 2005, it was announced that she had ruptured an Achilles tendon while training for the fight; recovery time was estimated to be 4-7 months, perhaps long enough for the commercial appeal of the promotional gimmick to grow stale.
In an interview with Dan Horgan of doghouseboxing.com, Lucia stated that although not retired as a professional boxer, she only wants one more fight, a bout with female star Laila Ali.
She's currently giving lectures and seminars inspiring athletes and people from all walks of life to perform their best, while still maintaining her top physical form and a strict diet.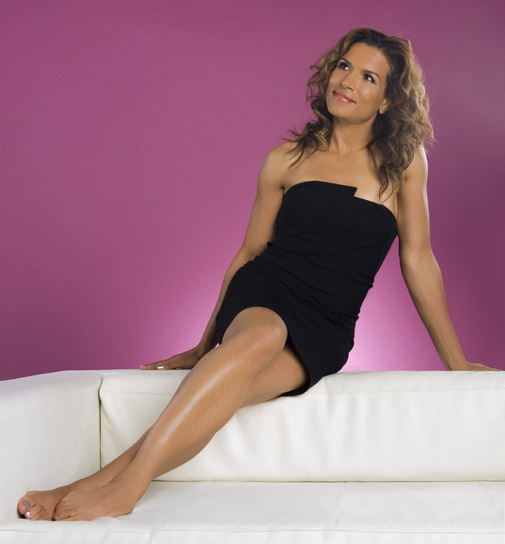 Lucia Rijker - "The Most Dangerous Woman in the World"
Lucia Rijker - "The Most Dangerous Woman in the World"